Cyntech's in-house software expedited the design, engineers managed changes in scope or additional materials required, and field support staff trained the contractor's personnel in proper installation techniques. As a result, helical piling installation rates exceeded expectations.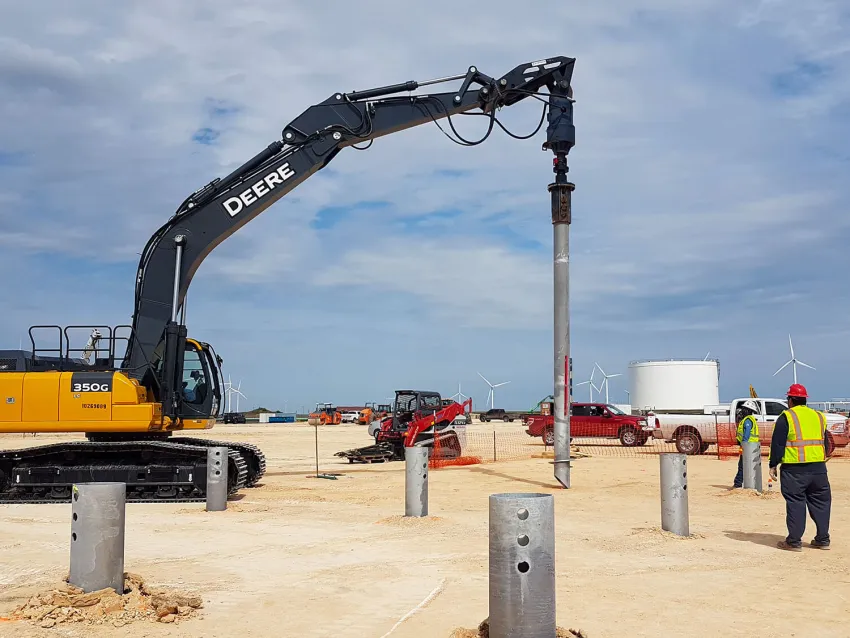 The project
The Cactus II Pipeline is part of a pipeline system expansion to increase oil transportation capacity from the Permian Basin. The Taft Station is an integral part, requiring deep foundations to support above ground piping, buildings, and equipment. Site soil conditions consisted of a dense upper layer placed and compacted by the contractor's civil team. This was underlain by a soft clay layer and dense sand layer into which the piling was installed to achieve capacity.
The challenge
High installation torques were encountered during installation, although anticipated. Working against a sensitive timeline, helical piling deep foundations were a critical path item that, once installed, could then allow the piping fabrication and equipment installations to begin immediately. Cyntech Group also faced a challenging engineering review and shortened lead times.
The solution
Cyntech Group was awarded the contract to provide the helical piling design, manufacturing, and installation support services. There were numerous piles with shaft sizes ranging from 3.5 to 18-in. outside diameters, requiring a variety of tooling for installation. Cyntech Group designed and supplied specialty installation equipment, including interchangeable tooling that kept change-out time to a minimum. Nearly 700 helical piles were designed and fabricated in four weeks.
Project facts
Owner(s)
Plains All American Pipeline
Main contractor(s)
Pipeline Construction and Maintenance (PCM)